TIPS/Instructions:
Read instructions thoroughly.
Fabric must be clean, in good shape, and must be STRETCHY! Make sure it stretches the long way and sideways! Material containing Lycra or spandex works best, but t-shirt material or other stretchy knits work well too.
Hold the fabric over the toilet lid. Make sure the design/look you want fits easily inside the lid area.
If there is a seam within the lid boundary, or your main image is near the edge, expect the seam to show and/or part of your image to fall off the edge.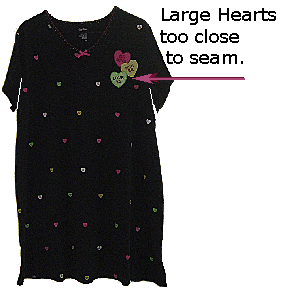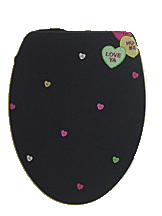 No sweaters, or loose fuzzy material, or unusually thick, or unusual material like foam, rubber, neoprene, etc...
No decoration that would get in the way of sewing, such as beads, sequins, buttons, etc... If they fall in the center of the lid, then that is fine. If it is questionable, ask first!
Measure the lid and note if there is an edge/lip to it.
Fabric should extend at least 4 inches beyond the edge, all the way around, including any lip!
If you are sending loose Fabric: 22 inches x 26 inches or 3/4 yard, will fit most traditional, standard and elongated, toilet lids, 13-16 inches wide and 14-20 inches long. But measure, as noted above, to be sure!
Make sure the fabric is clean and in good shape.
Note: Let us know if you want the design to go a certain direction.
Example: "Please put the orange in the back"...
If there are no specifics included, we will use our best judgment.
Please don't send anything sexist, racist, violent, or in any way politically incorrect. All offensive material will be rejected and tossed at our discretion. If it's questionable, send an email first.
Send a picture... Ask!
All Foreign/non-USA orders must include a self-addressed stamped envelope, with postage equal to shipped fabric.
NO RETURNS due to the toilet issue and germs.
NO REFUNDS unless we make a clear error.
Questions? Email: info@toiletseatlidcovers.com
---
1) Figure how much you owe, using the form below.
2) Make payment, if by paypal, or include a check with your order.
4)Send completed order form, along with the shirt/fabric you want turned into a toilet seat lid cover.
Prepay with paypal, or Mail Check / money order, material, and filled in printed page to:
Pam Wolf TSLC
490 Awalau Road
Haiku HI 96708
Credit card orders will be through pay pal.
https://www.paypal.me/wolftslc
For quickest response, make the payment when you mail in your order, and include the name and address that you mailed to me.
All orders will wait for the payment to go through, and/or check to clear. Then we will send your lid cover.
Turnaround time is usually within 3 business days of receiving payment and fabric.
Excess fabric is not returned.
NON-USA ORDERS must include self-addressed, stamped, appropriately-sized envelope, for return. 6" x 9" for one cover. 9" x 12" for more than one.
EMAIL: info@toiletseatlidcovers.com